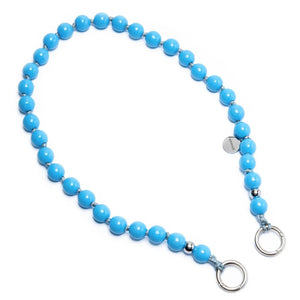 "THE EYE" convinces with a baby blue color scheme.
Our cell phone chains are not only super trendy, but also versatile. You can wear them as a cell phone chain, so you always have your phone with you. You can also use the wooden chains as a keychain or even as a chain for your mask. The cell phone chains "SHORTIE" can not be worn as a crossbody accessory, only over one shoulder.
For every purchased chain we plant a tree and support Syngap brain research. 
Details:
High quality wood from sustainable forestry
Handmade in Germany
Toxin free
Bead diameter: 14mm
Length: 60cm
Cannot be worn as crossbody
Due to the carabiner rings, they can be combined with any cell phone case with rings. You can also find a matching case in our store. 
we ship worldwide, see shipping information