UPBEADS:
YOUR WOODEN BEADED CELL PHONE CHAIN WITH STYLE
Stylish, practical, sustainable these are the wooden beads cellphone chains from UPBEADS. Always have your smartphone at hand - whether for a quick snapshot, when paying with your wallet in the store or for a quick look at your messages. Are you the gaudy type or do you like it discreet? We have the right color combination for every taste and outfit.
Our prime-quality cellphone chains are made of FSC®-certified wooden beads and are handcrafted in Germany from durable and weatherproof paracord. UPBEADS will become your favorite accessory. We are proud to be the world's first and original supplier of this unique wooden bead cellphone chain that offers an unparalleled combination of style, practicality and sustainability that cannot be surpassed by any other manufacturer.

Choose your favorite design from our new collection of crossbody cell phone and key chains to wear them across your body, like a necklace, or over the shoulder. Also browse our selection of matching cell phone cases.

Strikingly Confident: The Colorful Wooden Bead Chain for Your Cell Phone
No need to search for your phone anymore. Whether short or long: our colourful wooden bead chains make your mobile phone not only an eye-catcher - you will also have no trouble finding it ever again.

Crossbody: Our crossbody chains are produced in a variety of various length: our bestsellers are 120 cm long, but we also have options in 130cm and even offer custom made lengths. Our convenient crossbody cellphone chains can also be used for your keys and allow you to wear them either as a crossbody or necklace, over the shoulder or just let the chain peep out of your purse. The phone or your keys will be easy to spot and are ready to go with a simple grab. We always strive to make our customer happy and can produce any length or color combination you love as an individual order. Just email us.
Midi: Our midi length can preferably be worn as a necklace. This length is particularly suitable as a crossbody chain for children, as the silver carabiner is securely attached and nothing gets lost while riding the bike or just taking a walk with the dog. For adults, midi is the perfect length either to wear as a necklace or even as a crossbody if you are more a petite person. We offer the right cellphone chains for all ages and body sizes.
Shortie: You can wear our cute shorties over the shoulder or use them to attach your phone or keys to your bag and release it from its depths with one tug - no more searching or digging.
Mini: Just want a chic, durable accessory for your phone or keys? You can use our mini chains as colorful pendants or wear them as a bracelet. Even if your phone slips all of the sudden out of your hand during filming a video, the mini wooden bead cellphone chain won't let you and your phone down.
At UPBEADS you can choose from many beautiful colors and color combinations. Whether a sunny yellow, colorful rainbow, subtle pink or refreshing blue: our stunning bead chain simply put you always in a great mood. You prefer it discreet? We pair classic white and black beads and cords with tenuous contrasts. Natural wood or espresso tones match the perfect boho style.

UPBEADS: Protecting Our Environment Sustainably with Prime-Quality Work
The philosophy of UPBEADS is based on our sustainable and fair self-reflection. That's why our prime-quality wooden bead cellphone and keychains are based on these principles, from sourcing our materials to local production to your long lasting usage. We would also like to draw your attention that wooden beads are a natural product and rely on good and careful handling as well. Please avoid the beads to be in direct contact of excessive lotion, creme, perfume or water.
Would you like to know more about it in detail? Read more about it here or check our stories and posts on Instagram.

Stylish Cell Phone Chains — Handmade by Proud Moms
All our wodden beads phone chains are made by moms from home - with fair conditions and beyond average wages in Germany. This allows our artisans to financially support their families while working from home, balancing work with being present as well for the kids. As a female run business we know very well about the challenges to work and stay connected to your kids. As an additional highlight, our employees are inspired to listen to their own music or enjoy interesting podcasts while working, which contributes to a pleasant and relaxed working atmosphere. The wooden bead chains are made with a special knotting technique, where each bead is individually knotted to the cord. This makes the chain look a bit stiffer at the beginning. Over time and with usage it naturally becomes more smooth and extremely comfortable to wear. Nevertheless, thanks to this technique, the wooden beads always stay in place, so you can enjoy your necklace for a long time - even over several smartphone generations.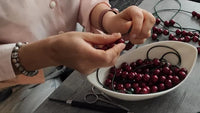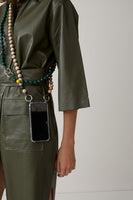 Your Cell Phone Chain Made of Wooden Beads: Made to Last
Our wooden beads are sourced from FSC® certified and sustainable forestry from Germany. The renewable raw material has a great feel and is very durable. Whether you like yellow, orange, pink or blue beads, the color for the chains is vegan and free of toxins. Thus, you can enjoy the colorful beads without any worries.

To make your necklace last even longer and provide a secure hold e.g. while jogging, riding or sailing, we knot our necklaces from paracord cords, also known as ship's rope. The durable cord is water and tear resistant. It is attached at both ends to a sturdy, round snap hook in silver. So you can attach your phone chain to any case with matching rings. Don't have your own cell phone case yet? In our store you will find matching Apple or Samsung phone cases for your cell phone chain.

Important to us
With our work, we also want to give back to the environment. That's why we are actively committed to sustainable forestry and support the careful reforestation of forests worldwide. With the purchase of a wooden bead mobile chain from UPBEADS you support us to support our environment. For every sold chain we plant a tree with the help of Eden Reforestation. In addition, a part from the sales goes to support SYNGAP brain research.

Want to stay in touch? Then follow us on Facebook and Instagram or subscribe to our newsletter.

Discover UPBEADS Cell Phone Chains for Every Phone Case
With an UPBEADS cellphone chain you always have a safe companion that holds your mobile phone securely on two carabiners. Therefore you have your hands free and can enter into your next adventure. With the purchase of a wooden bead cellphone and keychain you support a young start-up that is committed to fair working conditions and stands for prime-quality craftsmanship that sustainably enriches your life. Whether crossbody in various color mix or pink, orange, green mobile phone and key chains in short and long: In our store you will certainly find what you are looking for. With matching accessories like cellphone cases for iPhones and some Samsung models you are fully equipped for the smartphone everyday life.

Discover our store and find your favorite wooden beads cellphone chain!